Whilst you will charge your EV at home most of the time, either on a standard 3-pin plug or with a dedicated A/C unit, there may be occasions when you get caught short. Or, when planning a long trip, you want to know where you can fill up en route. Chargers are mainly located close to toilet facilities and cafes, so the golden rule is 'Keep the travellers happy whilst filling the car's battery!'
ChargeNet has the largest nationwide network of 50 kW DC rapid charging stations and is increasingly installing hyperchargers (300kW for 3 simultaneous charging sessions) where possible to keep up with the uptake of EVs in NZ. All these chargers have 2 connectors - Chademo for Leaf drivers and CCS for everybody else. Older Tesla Model S drivers still carry a Chademo adaptor and/or a CCS adaptor; however, the later Model 3 and Y both utilise the CCS standard.
You can also visit charge.net.nz/map to find location information about their current and future fast charger units around New Zealand or download the ChargeNet app to access their nationwide charging network on the go.
The Plugshare app is essential for all EV drivers showing all charging destinations in NZ, whoever has installed them, and details of cost and access. Available from the Google Playstore or Apple Store.
If there is one thing you can say about NZ charging, it is that there is plenty of choice!
You can access Plugshare from your Web Browser as well www.plugshare.com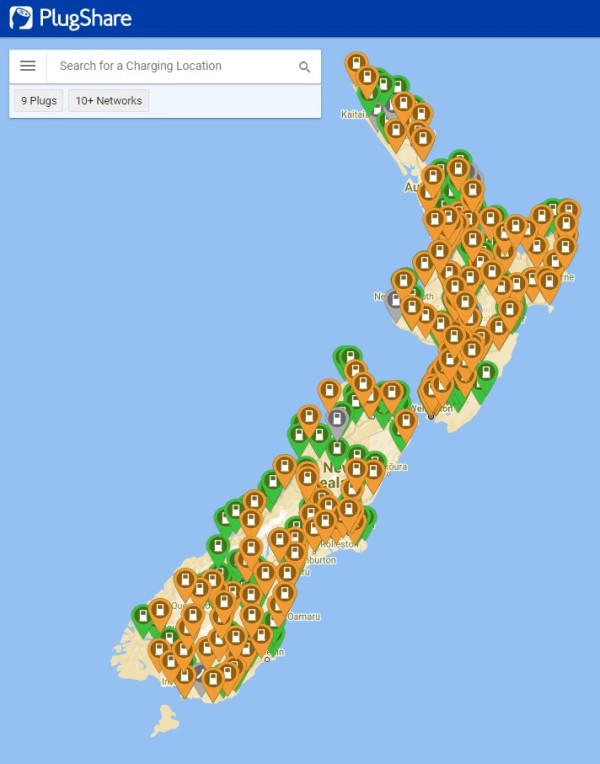 This map shows information uploaded by users to plugshare.com. You can see there are many hundreds of public charging sites across New Zealand. The orange icons denote rapid DC chargers, which are ideal if you are just topping up or haven't got long to stop, whereas the green icons depict AC destination charging points. Destination chargers are slower charge points that use the vehicle's onboard charger. They are ideal if your car will be parked for a longer length of time, such as in a parking building, shopping centre, or workplace.
If you click on the link and go to the plugshare.com site, you can change the search parameters to show only the charge sites that your car can use or that you want to see. If you create a free account, it will remember your settings.
The information there is quite important. It will let you know how much you will be charged and, importantly, which provider controls that charger. There are a handful in NZ already, and each has a different app or fob required to activate the charger.

Note: No Charger currently allows starting or paying with a credit card. So you will need a method to activate them. There are a few free chargers, mostly around Auckland, that do not require any activation but expect that to change.
Planning a trip
While in your home town, you are most likely to only charge at home. If you plan a holiday or a longer trip, you may need to think about where you might stop to recharge. With a large number of chargers in NZ today, it is easy to plan your comfort stops near a rapid charger. But if perhaps you have a smaller battery vehicle or a much larger trip planned, some websites and Apps can help. When you tell them your vehicle type and your route, they can plan your stops for you.
We recommend you use them as a guide, always check the results and make your own decisions based on your experience with your own vehicle and driving style.
PowerTrip is a New Zealand made app with lots of features, including specials from New Zealand businesses. It is available on the PlayStore and the Apple Store.
A Better Route Planner is an app as well as a websitel. I prefer to use the website to plan my trip at home. Again, you can create a free account and it will remember your planned trips.