Martinborough February 2023
On a very hot Saturday in February, at one of the largest and most popular craft markets in the southern hemisphere, the Rotary Martinborough Fair returned to its normal schedule, and the BNZT Wellington champions set up stall with several EVs on display. Organised by Rob Birnie and Graeme Fenemor, with many volunteers on site as well, it was estimated over 25,000 people attended the Fair, with a good 1,000 engaging with the EVs and their owners.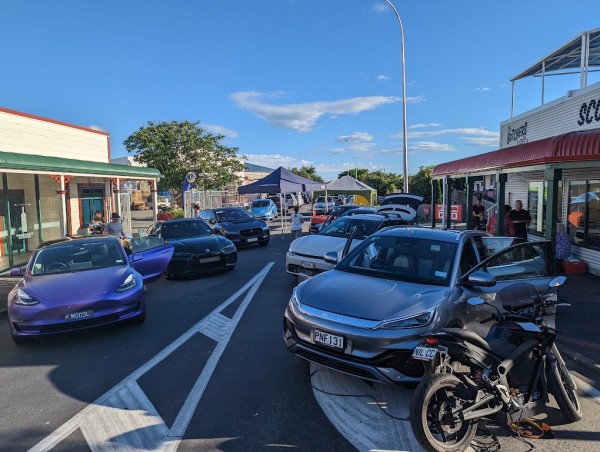 The cars on display were the Opel Corsa-e, Polestar 2, Kia EV6, BYD Atto 3, Tesla Model 3 x2, BMW i4 M50, Jaguar i-Pace, and the Nissan Leaf which offered the attendees a brilliant range of EVs. The EV6 and Atto 3 demonstrated their prowess at keeping water and soft drinks cool in portable fridges, using their VTL (Vehicle to Load) adapter – the volunteers were very happy indeed!
Awareness of EVs has increased greatly over the years, with a lot more conversations with either EV owners or people looking to purchase an EV and wanting information on this or that EV. There were less overtly negative people, with even those who didn't think an EV was for them open to talk about the subject.
The range and capabilities of the EVs on display were undoubtedly the highlight. With both the EV6 and the Atto 3 fueling the volunteers with drinks and food, and cars varying from the small Corsa-e, to the BMW i4 luxury sedan, we were able to display vehicles that would fit most consumer requirements.
There was also a lot more concern about the supposed lack of infrastructure to support EVs. Considering frequent news stories promoting this "lack of infrastructure" as well as a hyper-focus from some EV owners on this subject, it highlights a need for intelligent investment that meets the needs of customers. Of particular note, Featherston, between Martinborough and Wellington, has long been a bottleneck on the day of the Fair, with short range/low state of health vehicles often requiring a charge in Featherston. However, Featherston has only a single 50kW charger, and Martinborough has no DC fast chargers, meaning that if the Featherston charger is offline or in use, a vehicle would have to make the trip over the Rimutakas to Upper Hutt (31km) or heading away from Wellington to Masterton (36km) in the hopes of getting a charge. An additional charger in this location would be most welcome.
In short it was a brilliant day – and those who didn't make this one could book the date of 4th March 2023 for the next one. A request has already been put in for good weather!