2022 Northland RoadTrip
The 2022 RoadTrip - 18 -23rd April; 7 adults and 2 children in 6 EVs drove a Northland loop from Auckland and back, covering just under 1,000 km in 6 days. The Hamilton based car, an Ioniq 5 owned by Vanessa and Robert Nicholls, managed 1,250km by the time it returned to its base! the other travellers were Mark Buckingham in his Model 3, Sean and new tripper Adrian in Model S's and Margaret Baker and myself in Konas.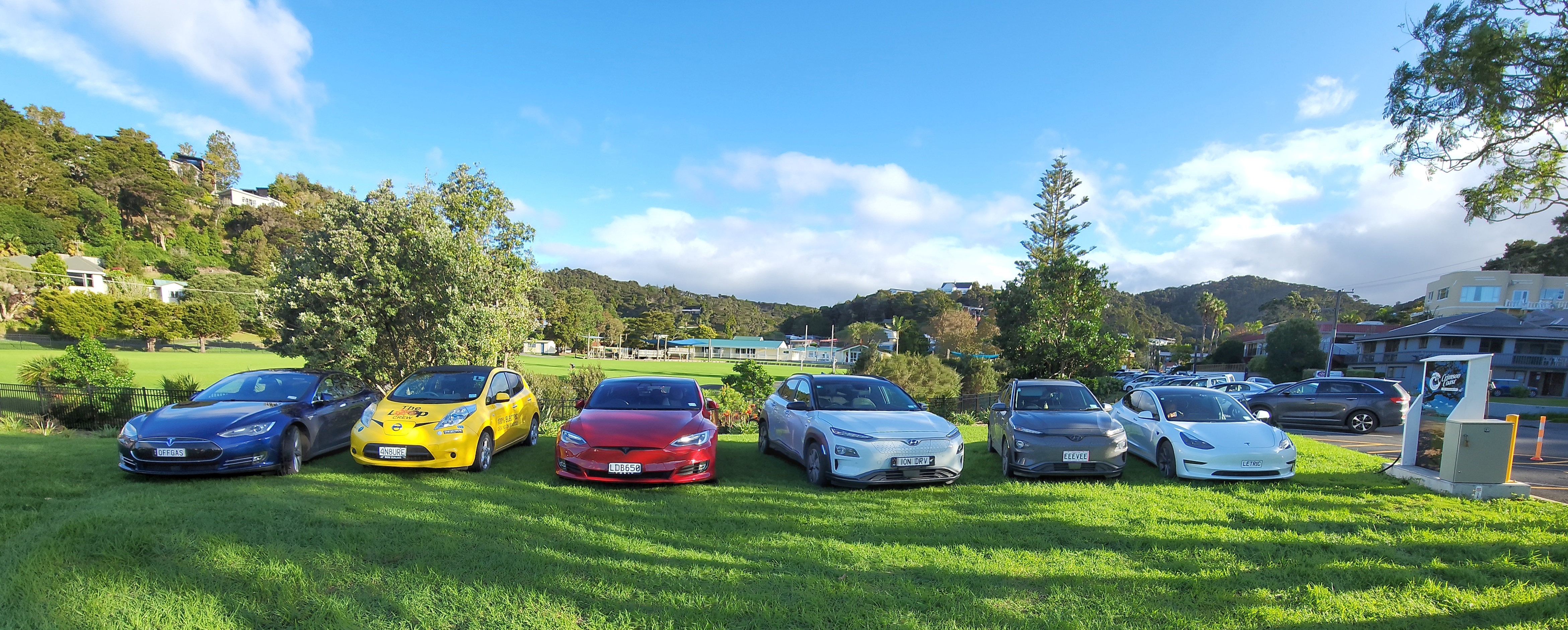 The original plan had been to stop at the Kaiwaka HPC as the first gathering place before moving off to the Gumdiggers café and Kauri Museum in Matakohe; but the inclement weather had us gathering new tripper Adrian and his Model S as well as Mark Stacey and his Kona at the charger and making a very quick decision to make a run for lunch. But the wet weather did not stop Joe and Jane Camuso venturing south from Whangarei to see us. In his role as Rivers and Natural Hazards Manager at the Northland Regional Council, Joe drives a 40kW Leaf and has been instrumental in the installation of several 25kW chargers in Northland – on the "Crimson Coast" route. The weather precluded many other Museum visitors from stopping to chat but we did get a couple of EV conversations going!
That first night we stayed at the Bayly's Beach Holiday Park and treated ourselves to local fish and chips in the new Bayly's Beach Community Hall, which Mark had secured for us.
On Tuesday morning we had a breakfast appointment at the strangely named 'Blah Blah Blah' café in Dargaville with Steve and Dee Hobo-Tuck who were doing a Northland loop in a campervan, in the opposite direction, and could intersect with us there! Steve is the BNZT champion in New Plymouth and it is always great to meet up in the flesh when we can!
Following our hearty breakfast we travelled up to Opononi via the mighty kauri forests – first into the Trounson Kauri Park to walk the 2 km loop past great stands of kauri trees; we were however quite shocked to see several largish kauri had been felled and left on the forest floor with one stump showing serious disease at its centre; and second into the Waipoua forest to pay homage to Tane Mahuta. It really doesn't matter how many times you visit, you are always humbled by its size and presence. We noted a much more sturdy fence now defines the boardwalk approach to Tane. We were all very careful to treat our shoes correctly as we entered and exited the parks.
We overnighted in Opononi, breakfasted at the Boatshed café over the water in Rawene and then took the car ferry across to Kohukohu – a very small settlement indeed. Rather than travel directly to Kaitaia we decided to drive west to Herekino to sample lunch at the world famous Herekino Tavern. We thought it interesting that it only opened at 2pm but were literally standing at the door waiting for opening time! The staff were completely shocked to see 9 people waiting patiently to order lunch; they usually don't expect to see anyone, driving their utes, until at least 4pm! Toasted sandwiches and chips were ordered and eaten!
From Herekino we headed to Kaitaia for a night's accommodation and found a very nice restaurant where I ate the best steak I have had in a long time! Thursday we headed up the Karikari peninsula in search of a great white sand beach, but at Rangiputa the tide was completely full, and there was hardly any sand to be seen, let alone walked on! But lunch called at the famous Mongonui fish and chip shop at 1pm and another meeting with a local EV owner – Andy Hay and his MG ZS.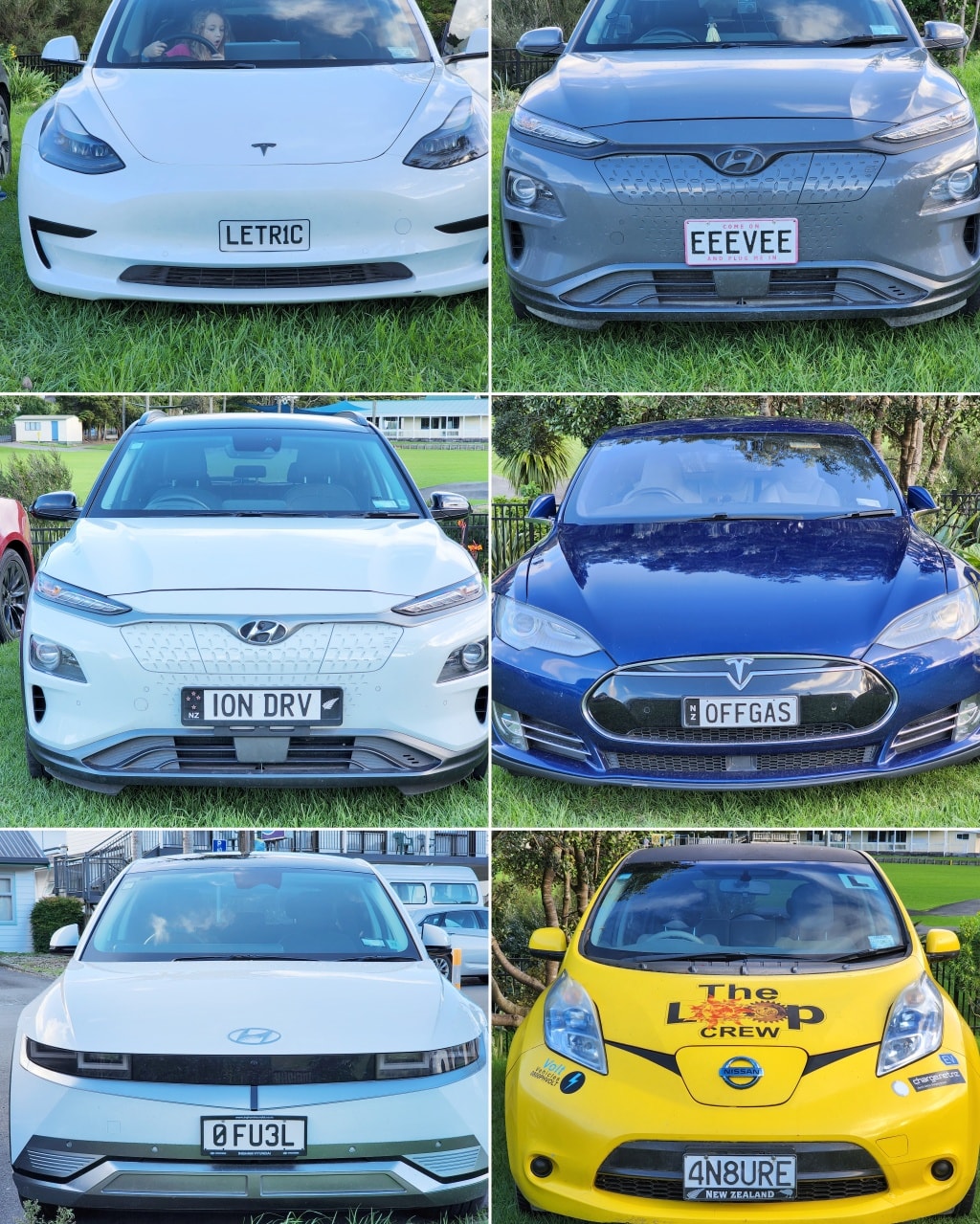 And so onto Kerikeri for two nights accommodation and a bit of a breather from driving! But in Paihia on Friday afternoon we staged an old-fashioned EV event for locals to attend at the 25kW Crimson Coast charger on Williams Rd! Craig Salmon of Honey Paihia, despite isolating at home with Covid, had put the word out and we entertained a good number of visitors, who wanted information about how to move to an EV!
Campbell Sturrock came along in his LoopCrew bright yellow Leaf – his family was a very early adopter of EV technology, having an EV house bus that they travelled the country in! Another visitor was Gordon in his 3 week old MG ZS, in which he then proceeded to offer a test drive to a couple who expressed interest in that vehicle! A Jaguar i-Pace dropped by too!
But the high point of the event was a lady who came along, and told us that she had been into Whangarei that morning to test drive a Kia EV6 and an Ioniq 5, but wanted to sit in a Tesla Model 3 as a comparison. She sat in Mark's car chatting with him, and finally decided that it was a Tesla she really wanted! Mark then helped her order one on-line on her phone!
Now that's a resounding success for an EV event!
But Kerikeri still had something up its sleeve – the Nicholls in their Ioniq 5 were chased down at an intersection by a lady who had just put in her order for an Ioniq 5 in the exact colour and spec as the Nicholls car – and was super excited to see one in the wild, as it were! Robert and Vanessa chatted to her and planned a visit to her at home so she could check the size against her current ICE car and her garage! This piqued the interest of her next-door neighbour who joined the gathering and was so taken with the Ioniq that he planned to discuss with his wife with a view to ordering one too! I think we can say we had an impact in Northland!
Our final meal in Kerikeri was at the Black Olive which did some very interesting pizzas!
On our way south back to Auckland Margaret and I dropped in for a samosa breakfast at the PackHouse Market and then called in at the 50kW Waipu fast charger and met up with several owners who dropped by to charge – Joe and Jane came along to wish us a fond farewell and local Waipu resident Mark Stacey arrived on his electric motorbike with mountains of feijoas for those who like them!
You may have noted that eating came a close second to driving - but then when travelling with friends that's what you do!