Targa Rally 2021 – Two Day Regional Tour
How would an EV fair attempting the Targa Rally?

Graeme Fenemor decided to find out and wrote this account of this experience.
Background – Targa Rally
With scenery only made in New Zealand, and roads that vary from open and flowing, to tight and technical, Targa New Zealand is the Ultimate Road Race. Further, Targa New Zealand brings together an incredibly diverse collection of cars and drivers from around New Zealand and the world. Kiwis have a rich grassroots motorsport heritage as well as a presence in the international racing scene varying from Formula 1, Formula 5000, CanAm, V8 Supercars and Rallying. This heritage creates a unique platform for Targa New Zealand to springboard from and a unique blend of automotive machinery for drivers to compete in. From vintage sports cars, Kiwi developed specials, Italian exotics and state-of-the-art 4WD machines, Targa New Zealand caters to them all.
As Targa New Zealand grew, so did the competitive offering – smaller two- and three-day events were created, as well as one-day sprint events. These events are special, allowing competitors to test themselves and their vehicles in preparation for the annual Targa New Zealand. Since the inaugural Targa New Zealand, the event has evolved and developed, with a keen focus on ensuring Targa continues to be The Ultimate Road Race. With a huge focus on safety, operational and event efficiency and competitor experience, Targa New Zealand is unmatched globally in competitive stage distance per dollar spent and has had zero fatalities in its 25 years of operation.
Targa New Zealand 2021 ran from 25-29th May 2022. This is the five-day event that was planned for October 2021 but had to be postponed so it maintained the event name as Targa New Zealand 2021.
The part of the event the Tesla Model 3 SR+ was entered in is the Tarmac Rally event known as "Targa New Zealand Two Day Regional 2021" promoted by URG (Promotions) NZ Ltd on behalf of Club Targa Inc hereafter referred to as "The Event".
Targa New Zealand Two Day Regional 2021 Tour took place from Saturday 28th May to Sunday 29th May 2022.

Background – the entry T18
T18 was a 2019 Tesla Model 3 Standard Range Plus, one of the original Tesla Model 3 shipped vehicles.
The car has been wrapped with Avery Dennison Metallic Satin Purple, both externally and selectively internally, tinted to 50%, and chrome deleted with 3M Satin Black by the team at The Wrap Shop.
The car is rear-wheel drive, single-speed, 239kW, 420Nm, 320km real range, 49kWh usable battery (52kWh capacity), 225kmh limited top speed, 0-100kmh 5.6s acceleration. This car has a 1.7l/100km claimed fuel equivalent rating. All as per https://ev-database.org/car/1177/Tesla-Model-3-Standard-Range-Plus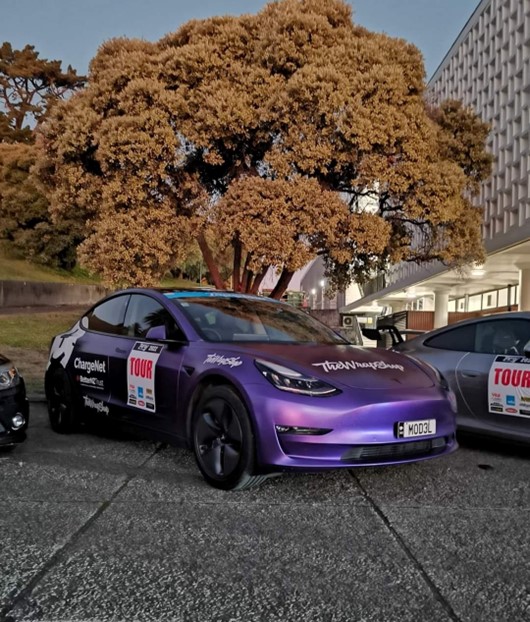 Saturday 28th – Leg 4
A cold clear morning greeted the Rally tour Saturday morning, which did hinder the ability to add additional (and what would later turn out to be valuable) electrons to the EV in the morning. The decision to run with 81%, having charged to 90% the previous night, and the morning cold reducing available capacity to heat the battery and cold weather natural reduction.
From the Whanganui Memorial Hall, the touring and closed stage to Waiouru are all uphill, this equated to a higher use of electrons.

A topup at Waiouru War Museum, increasing the battery from 11% to 24% proved faithful in getting through the next 2 closed stages, completing the last 6 kilometres touring into Taihape with 0km of range.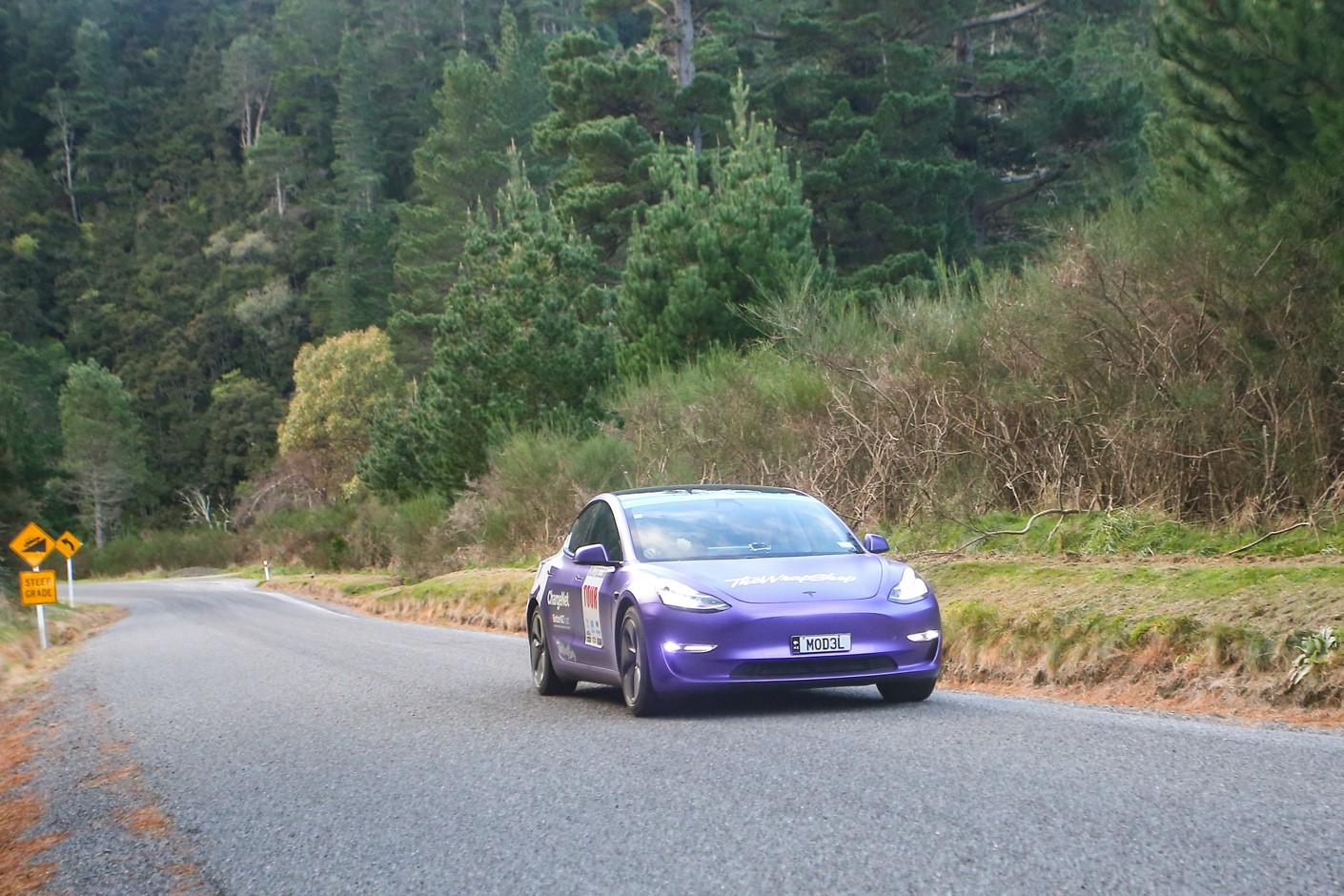 Taking the opportunity at lunch to extend charging for over an hour on the 50Kw charger, taking on 41.52kWh of electrons. More would have been desired.
After Lunch were the three Gentle Annie stages into Havelock North. The beauty with these stages were they also mapped on the map and navigation of the EV to the exact same route. This made confirming the distance to Havelock North as achievable and being able to real time manage this during the touring stages extremely helpful.
Sunday 29th – Leg 5
Sunday was started with a full battery, courtesy of the Porter Hotel Tesla Type 2 AC chargers and making good use of one of these overnight.
The morning of Sunday had 3 closed stages scheduled with service and touring away from charging. This morning of the event was always going to require decisions to be made.

The total distance of Sunday morning stages, touring and where service opportunities were present, was well beyond the capabilities of the car within the timings provided.
At various points, mostly service, an opportunity was taken to charge the battery in the car. Even with all the service points and opportunities, the decision was made to skip Crownthorpe 2 stage to take the opportunity to charge the car for the post-lunch Sunday closed stages and take advantage of a full battery on these stages.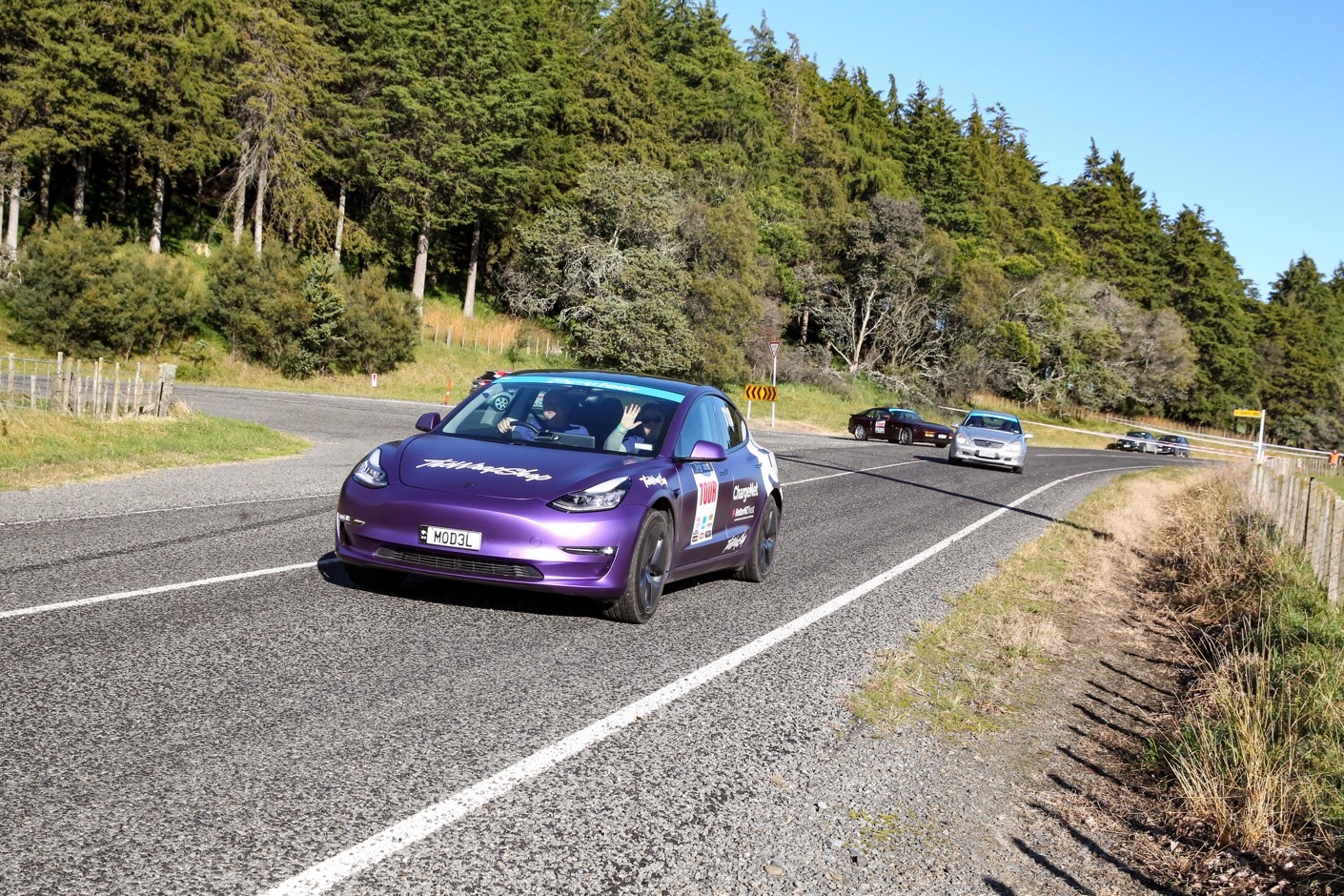 Post the second closed stage of the morning, and on touring back to service, the crew took the opportunity to charge. Usage was made of the Tesla Superchargers, and further to this will be talked upon below.
Post lunch the last two closed stages to the close of the Targa Rally were fast-flowing and well within the normal range of an EV.

Due to light and time constraints, no service was had by the touring cars. The finish of the event was post-sunset.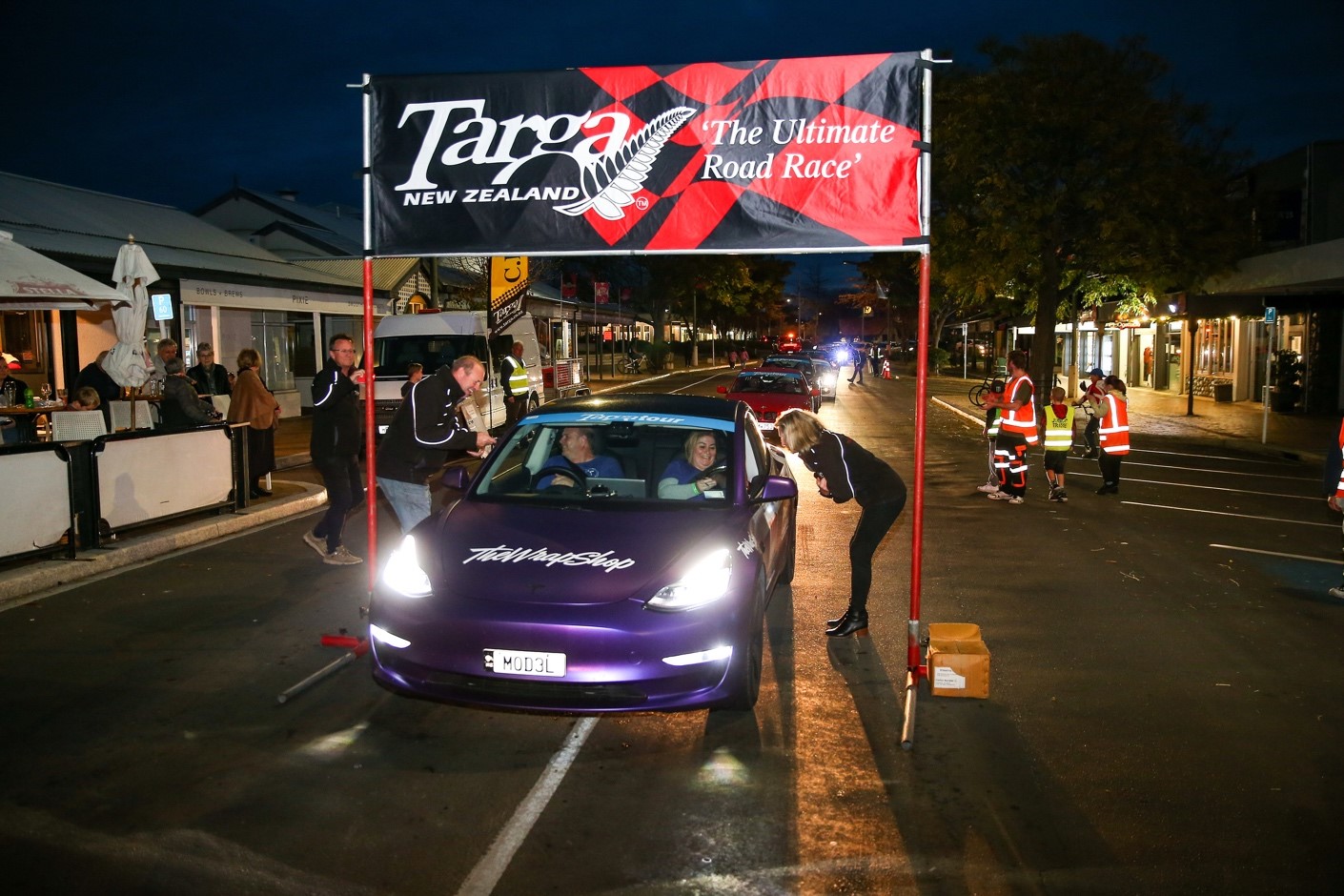 By the numbers – not technical
Below are a collection of numbers over the various sections of touring and closed stages, and data collated from when charging has occurred. As I don't run any technical applications that collate this data at an in depth level, I have collated it from what an everyday Joe or Jane Blogg would use for working out battery usage between points A and B.
The collation isn't specific or scientific but is intended to give a practical look at how an EV performs overall during an event, like the Targa Rally – 2-day Regional Tour. It is taken from kWh usage and km travelled. It does not capture any data from distance estimated by the EV and battery levels of an EV, which both later were irrelevant due to what Targa is all about.
| | | |
| --- | --- | --- |
| | Distance | Approx battery usage |
| Tour to Stage | 56km | |
| Stage – Fields Track | 27km | |
| Service - Waiouru | 24km – 107km total | 35kWh – 327Wh/km |
| Tour to Stages | 8km | |
| Stages – Waiouru/ Mataroa | 37km | |
| Service – Taihape | 7km – 52km total | 12kWh – 231Wh/km |
| Tour to Stages | 11km | |
| Stages – Gentle Annies | 86km | |
| Service – Havelock North | 58km – 155km total | 40kWh – 258 Wh/km |
| Tour to Stage | 25km | |
| Stage – Crownthorpe 1 | 36km | |
| Tour to Stage | 56km | |
| Stage - Hedgeley | 27km | |
| Service – Tesla SuperCharger | 44km – 188km total | 45kWh – 239 Wh/km |
| Service – Havelock North | 11km | |
| Tour to Stage | 25km | |
| Stage - Raukawa | 37km | |
| Tour to Stage | 20km | |
| Stage – Tod/Middle Rd | 42km – 135km total | 41kWh – 304 Wh/km |
| 2 Day Regional Tour – EV | 637km | 173kWh – 272 Wh/km |
For comparison, the normal everyday usage for tour driving is ~170 Wh/km. Towing a trailer has proven to be ~ 300 to 330 Wh/km. Uphill closed stages appeared to use approximately the same as towing a trailer. Real-time graphing varied upward of 600 Wh/km at times on tight steep pieces of road, and often seeing over 400 Wh/km where heavy acceleration or steep tight roads were encountered as a single factor.
Downhill runs on closed stages were ~200 Wh/km and at times regeneration was often seen on slowing into tighter corners. Good regenerative braking was often all that was needed, and heavy braking was seldom used, only during tight downhill repetitive curves. Flat running, often at high speeds saw ~250 to ~280 Wh/km.
I roughly budgeted on 2 times normal use on downhill/flats and 3 times normal use on an uphill when originally estimating usage for the Rally Touring. Based on the normal estimated range provided by the car, this proved to be a good way to work out whether the EV could make it between chargers.
As the Gentle Annie sections and touring to Havelock North was the most direct route, the onboard destination and route planner was used from the start of the Gentle Annie sections and calculated to within a couple of kilometres the actual usage of what was used. The real-time calculator was surprisingly accurate based on the stages and touring of the previous 50km.
Learnings for EVs
Over the course of the 2 Days of Targa Touring, several observations were made, and key points to remember when participating in an event
Find accommodation that has a Type 2 AC charger for charging overnight…always start the day with a 100% full battery.

Ensure that for every approx. 150km of touring/stages…there is handy charging available for a quick top-up, this will be necessary to complete a morning/afternoon event.

Be prepared to leave the event to charge, it will help with reducing range anxiety. Just ask my co-driver, her first time seeing 0km of range was nerve-racking especially when we were still on stage and touring along at speeds averaging around 130kmh.
Summary of Event
Targa is a fantastic event, made up of various components, that gives a great opportunity for that unique car by being part of the tour section of the event. Whanganui to Havelock North got us to travel upon some of the most amazing backcountry roads at speeds and in a way you can't without being part of an event like this.
If you have ever considered taking that special vehicle of yours and driving on some of the most brilliant roads, testing the abilities of yourself and your car, this is the event for you.
EVs are definitely the new vehicle on the tour, but I'm sure the entry of T18 did itself proud by being able to participate and being seen by numerous people at all different parts of the event and standing out amongst all the special vehicles.
May we see many more of these events and let there be many more EVs part of the future of them.